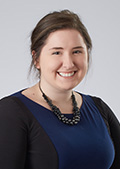 Grace Garcia
Client Development & Recruiting Consultant
QTI Executive and Professional Search
414.744.5062
Profile:
What I do: I am a Client Development & Recruiting Consultant for our Tech Ops Team. My area of expertise is in recruiting for Finance, Administrative, and HR Roles. I also support our sales team with account management, lead generation, and client outreach.

What I enjoy best about my job: I truly enjoy getting to know candidates and clients on a personal level. Each person I talk to has a unique story to tell. It creates a fun and exciting work day… you never know who you are going to talk to!

Community Involvement: Susan G. Komen Race for the Cure – Team Lead, Forever Families – Annual Volunteer

Fun Fact: I am an avid baker! Last year, my mom and I made over 500 cupcakes (20 different varieties) in one night for the Forever Families Fundraiser, an organization that donates to Foster Care and Domestic/International Adoption, in Port Washington, WI.
Specialties:
We have a knack for matching talent with culture and culture with talent. It's something that comes with open, honest communication—a skill we've honed through years of sharing knowledge and building connections within our communities. We do this because we believe the well-being of you and everyone else is more than professional. It's personal.
Learn more about how we can help fulfill your needs.