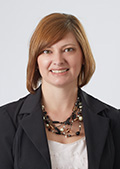 Justine Rose
Branch Manager, Madison Metro Administrative Services
QualiTemps
908.204.6286
Profile:
Justine is a Branch Manager for our Administrative Services Division in Madison. She specializes in managing her team to place candidates in a variety of roles throughout Dane and surrounding Counties. Placements include temporary, temporary to hire and direct hire from entry level office roles up to high end executive support positions and everything in between.
Background: Justine has been in the staffing industry for twenty years! She started her career with ACT-1 Staffing in Indianapolis, Indiana which was then acquired by The Reserves Network. She started her career as a Receptionist and worked her way to Branch Manager when she left in 2004 to relocate to Madison.
Justine joined QualiTemps, Inc in 2004 as an On-Site Representative for a large client, was then promoted to a Senior Employment Specialist and to her current role as a Branch Manager. She currently holds the Certified Temporary Specialist, CTS designation which she obtained in 2012.
Community Involvement: Justine is involved in the HIRE initiative to help individuals who are unemployed or underemployed obtain additional training and skills to earn over fifteen dollars per hour in the Madison Market.
Fun Fact: Justine loves outdoor winter sports like snowboarding and snowmobiling!
Specialties:
We have a knack for matching talent with culture and culture with talent. It's something that comes with open, honest communication—a skill we've honed through years of sharing knowledge and building connections within our communities. We do this because we believe the well-being of you and everyone else is more than professional. It's personal.
Learn more about how we can help fulfill your needs.