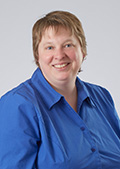 Kathi Sergenian
Chief Financial Officer
The QTI Group
608.257.1057
Profile:
Kathi is the Chief Financial Officer for the QTI Group. She directs QTI's support operations for technology, accounting, staffing and recruiting, payroll, billing, and benefits. Her experience includes financial accounting and reporting, compensation and incentive administration, lean process improvement, project management, and system selection and implementation. She enjoys solving business problems and helping her team serve clients and employees while growing in their own role.
Background: Kathi graduated Summa Cum Laude from the University of Wisconsin-Oshkosh with a Bachelor of Business Administration degree in Accounting and Management Information Systems. She is a Certified Public Accountant (CPA) and Certified Management Accountant (CMA).
Prior to joining QTI, Kathi worked for the public accounting firm of Grant Thornton in both the audit and consulting practices. Some of her experience included needs analysis, system selection and implementation projects, process improvement, financial audits, operational compliance audits, and reporting and custom programming. These experiences gave Kathi exposure to a wide variety of customers and industries.
Community Involvement: Outside the office, Kathi is a past board member and treasurer for Access Community Health Center where she still serves on the finance, compliance and investment committees. Kathi is a past president of the local chapter for the Institute of Management Accountants. She is a member of a local CFO Roundtable group. Kathi is also active in her church.
Fun Fact: Kathi used to work in a grocery store meat department.
Specialties:
We have a knack for matching talent with culture and culture with talent. It's something that comes with open, honest communication—a skill we've honed through years of sharing knowledge and building connections within our communities. We do this because we believe the well-being of you and everyone else is more than professional. It's personal.
Learn more about how we can help fulfill your needs.