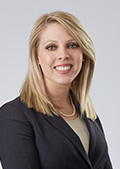 Summer Rector
Chief Operating Officer
Total Rewards Consulting
608.204.6283
Profile:
What I do: QTI Consulting helps organizations get the most out of their greatest competitive advantage - their PEOPLE. Through compensation and benefit studies, engagement surveys, talent management, succession planning, HR technology support, and more, we partner with clients to ensure that they are getting the greatest return on their human capital investments.
As a Consultant, my experience includes working on projects related to executive compensation, incentive plan design, compensation committee governance models, HR technology (Workday HCM certified), and HR organization design. This experience includes working with clients from a variety of backgrounds, including, but not limited to, publicly-traded, private, not-for-profit, start-up, health insurance, services, technology, and manufacturing organizations.

What I enjoy best about my job: Being a trusted partner to our clients and an extension of their team while helping them through a variety of HR challenges.

Community Involvement: Business Forum and Program Committee Member, Student Mentor at the University of Wisconsin-Madison School of Business, Door Creek Church DCC Kids Volunteer.

Fun Fact: I used to drive a 20-ton tour boat on the Upper Dells of the Wisconsin River.

Specialties:
We have a knack for matching talent with culture and culture with talent. It's something that comes with open, honest communication—a skill we've honed through years of sharing knowledge and building connections within our communities. We do this because we believe the well-being of you and everyone else is more than professional. It's personal.
Learn more about how we can help fulfill your needs.