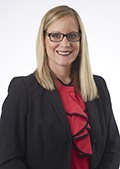 Tara Conger
Chief Operating Officer
QTI Human Resources
608.257.1057
Profile:
Tara is the Chief Operating Officer of QTI Human Resources. As part of the QTI HR division, we offer businesses the chance to be part of a PEO (Professional Employer Organization). As a PEO, we provide business owners, CEO and CFO leaders with relief from dozens of time-consuming HR & employment related functions, while helping protect the business from ever-increasing HR demands and liabilities. We provide integrated HR administration, employee benefits, payroll administration, workers' compensation services and much more. Our human resources-related products and services allow small and medium-sized businesses to compete with those offered by Fortune 500 companies. Tara leads a talented and experienced team to help ensure clients can focus on their core business. Tara enjoys being a strategic partner with QTI's customers by helping them find solutions and resources that will positively impact their business and help them to achieve key goals and objectives for their organization.
Background: Prior to joining QTI, Tara spent the last 10+ years leading HR teams. She was the Vice President of Human Resources at Palmer Johnson Power Systems. There she envisioned and executed creative initiatives to make the organization stronger. Before entering the HR world, she was an assistant athletic director for a college in New York, spent time in sales for a fitness company, and worked for the Minnesota Vikings. Tara holds a master's degree in sports administration, and a bachelor's degree in human resource management and marketing from Minnesota State University-Mankato. Tara's certifications include SHRM Senior Certified Professional (SHRM-SCP), Professional in Human Resources (PHR), Patient-Centered Healthcare Consumerism (CPCHC), and certified in WELCOA's Seven Benchmarks. Tara was chosen as one of eight HR professionals to serve on the HR Executive Special Interest Group Steering Committee for the University of Wisconsin E-Business Consortium.
Community Involvement: Outside the office, Tara is involved with the Madison College HR Advisory Committee, Madison Area Down Syndrome Society, Habitat for Humanity, Boys & Girls Club, GMA SHRM, as well as supporting many of our non-profit clients.
Tara regularly speaks on the topics of engagement, retention, healthcare and back-end support at HR conferences and functions. Tara enjoys mentoring younger HR professionals and co-teaches the SHRM Certification Learning System through UW-Madison.
Fun Fact: Tara loves cowboy boots and owns 8 pairs.
Specialties:
We have a knack for matching talent with culture and culture with talent. It's something that comes with open, honest communication—a skill we've honed through years of sharing knowledge and building connections within our communities. We do this because we believe the well-being of you and everyone else is more than professional. It's personal.
Learn more about how we can help fulfill your needs.