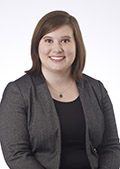 Andrea Wyant
HR Business Partner
QTI Human Resources
608.230.8068
Profile:
As a HR Business Partner, Andrea assists clients with employee relations, performance management, employment compliance, and employee training. She enjoys applying her HR knowledge to a wide variety of organizations including start-ups, non-profits, and manufacturing clients. Her passion is to partner with clients on HR strategy that aligns with organizational strategy. The best part of her job is helping clients grow and succeed through being a partner in the employee life cycle.
Background: Andrea graduated from the University of Evansville with a Bachelor of Business Administration degree in Management and Marketing.
Prior to joining QTI, Andrea held HR and management roles at manufacturing and retail companies. Her experience includes leading diverse teams to turnaround negative performing departments, training, and implementing policies and procedures.
Community Involvement: Outside of work, Andrea serves on the United Way's Rosenberry Society Council and SHRM College Relations Committee. She also volunteers with the Stoughton Historical Society.
Fun Fact: Andrea loves to travel and has visited 14 countries. She also studied abroad in college, living in England for four months.
Specialties:
We have a knack for matching talent with culture and culture with talent. It's something that comes with open, honest communication—a skill we've honed through years of sharing knowledge and building connections within our communities. We do this because we believe the well-being of you and everyone else is more than professional. It's personal.
Learn more about how we can help fulfill your needs.