How a Small Business Benefits from a PEO
WHAT TO LOOK FOR IN A PEO
While many PEOs offer similar services, they are not all the same. When selecting a PEO, be sure to look for one that allows you to focus on your business goals and removes energy spent on HR related tasks. Review closely the HR services offered such as HR compliance and expertise, benefits, and payroll. These core services will help your business avoid the HR challenges of being an employer and provide more time to concentrate on your business.
Better Benefits
Through a PEO, you gain access to a larger employer benefit packaging putting you on a level playing field with much larger businesses. You'll keep the small-company feel and gain competitive benefit plans – a winning combination for attracting a retaining talent.
The PEO will negotiate for the best plans and rates for your business. In addition, the PEO will administer all benefits including, but not limited to:
Health
401(k)
Life and Disability Insurance
Dental and Vision plans
Employee Assistance Program
Flex spending and dependent care plans
Payroll Administration
A PEO that provides a dedicated and certified payroll professional who handles full cycle payroll and guidance around ever-changing payroll compliance is a critical element when selecting a PEO. Additionally, ensure the PEO will manage and oversee the following payroll related process for your business:
Payroll and policy administration
Payroll tax processing
File required state new hire reporting
Payroll software and on-time pay delivery
Issuance of year-end W2 forms
Time and attendance tracking
| | |
| --- | --- |
| | Payroll administration through a PEO will reduce your administrative burden, provide dependable payroll compliance, and offer simplified tracking and reporting. |
Risk Management and HR Compliance
A PEO offers experienced professionals who partner with you to identify potential blind spots and mitigate exposures to the business. When researching PEOs, look for one that offers critical pre-employment services (i.e. E-verify, background checks, credit checks, and drug screens), provides oversight of workers compensation and unemployment, and is committed to safety and regulation compliance.
Key risk management and HR compliance services a PEO offers include:
Federal and state employment laws assistance
Workers' Compensation plan sponsorship administration
Unemployment administration
Safety consultations and OSHA assistance
Guidance on employment related law: FLSA, ACA, FMLA, ADA, etc.
HR Administration
PEO partnership allows you to spend less time on transactional work and more time on achieving your business goals. While removing this administrative burden, the PEO's HR Business Partners will provide assistance and consult in all things HR. Example HR administration services to look for when selecting a PEO include:
Employee Handbook - compliant policies, procedures & maintenance
Employee relations and performance management
FLSA review and I-9 compliance
New hire on-boarding and orientation
Risk mitigation & employee offboarding
Employee and Manager Training
Support for strategic business initiatives to achieve faster results
In addition to benefits, payroll administration, risk management and HR compliance, and HR administration, look for these additional characteristics when selecting a PEO.
1. Personalized Attention
A quality PEO believes in delivering HR in a way that helps a business grow and achieve success. Look for a PEO that offers a low HR Business Partner (HRBP) ratio to ensure personalized service, quality attention, and expert guidance. The PEO should deliver your business peace-of-mind knowing that their dedicated HRBP is just a phone call away.
2. Technology Driven
When selecting a PEO, look for one that offers a premiere HRIS platform to bring innovative and adaptive technology within reach for your businesses. Many PEO's offer web-based platforms that make it easy for employees to see and manage their paychecks, benefits, PTO information, and more. Other key technology features to probe for include; electronic on-boarding, time and attendance tracking, benefits enrollment, compliance, and on-line learning software. A PEO that has a technology focus will help your business stay competitive and move faster in the talent market.
3. Fee Transparency
Before selecting a PEO be sure you understand all fees involved. Some PEOs have bundled, black-box fee structures which can make understanding the costs involved difficult. But with an unbundled fee structure that is designed with flexibility and transparency in mind, you will receive detailed pricing that itemizes service charges so you always know how your HR investment is being used.
4. Client Retention Rate
The average client retention rate for a PEOs nation-wide is 91%. Ask the PEO you are considering for their client retention rate to be sure it is at or above industry average. You can also research online reviews to learn what others are saying about the PEO's service and attention.
5. Market Performance
A PEO that is committed to the results of their clients is critical. Specifically, review how the PEO performs in the market as it relates to worksite employee (WSE) retention and growth to ensure they are at or above industry average. Both of these components are important to enabling greater client success.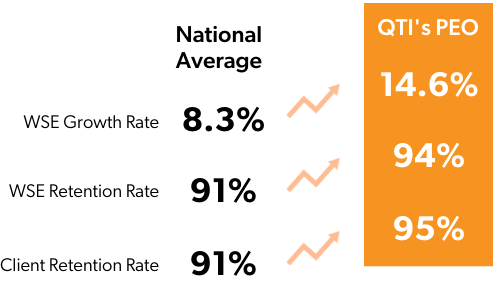 6. Strong Brand
The PEO you chose should be reputable in the market and have a strong brand. Here are a few key questions to consider:
How long has the PEO been in business?
Is the PEO committed to a workplace that puts employees first?
Is the PEO active in the community?
Is the PEO trusted by other businesses and organizations?
Positive responses to the above questions likely indicate that the PEO has a strong brand.
7. Ancillary Services
PEOs that offer ancillary services are advantageous to businesses. These add-on services allow your business access to a full suite of HR services fulfilling all your HR needs through one provider Such services can include:
Workshops and over 250 online courses including anti-harassment, diversity/equity and inclusion, leadership, communication, and more
HR audits of regulatory forms, policies, procedures, etc. to mitigate risk of non-compliance
Recruiting services to help fill open positions including background checks and drug testing
Talent/leadership assessments for pre-hire and/or employee development Compensation consulting, market benchmarking, and total rewards program design
Employee engagement and 360 feedback surveys
Job architecture and career pathways design
TAKING CARE OF THE DETAILS
Our work is people. That's why a PEO partnership with QTI provides you with a dedicated team, best practices, and peace of mind – knowing we have all things HR covered.
With QTI's PEO, you get comprehensive HR, large group benefit access, payroll, tax administration, and regulatory compliance with specialized support – plus access to a full-suite of HR services. Our team is here for you – providing timely advice and resources during these unprecedented times.
Ready to leave the HR work behind to focus on your core business? Let's connect about how QTI can partner with you.