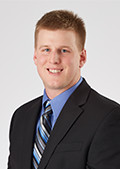 Zach Lauersdorf
Associate Consultant
QTI Consulting
608.230.8087
Profile:
Zach is an Associate Consultant specializing in employee compensation and talent management consulting. Through his compensation and talent management work, he illuminates strengths and opportunities for improvement to help employers get the most out of their biggest asset – their employees. He has worked with clients from a variety of industries, geographies, ownerships, and phases in the business life cycle. He enjoys assisting organizations' leadership teams to help ensure that their employees feel valued.
Background: Zach graduated from the University of Wisconsin-La Crosse with a Bachelor of Business Administration degree in Management and minor in Accountancy.
Prior to joining QTI, Zach was a life insurance agent within the state of Wisconsin. Zach spent his first two years at QTI as a Payroll and Billing Specialist gaining knowledge of payroll best practices. Also, he assisted the department in implementing a new HRIS that would be used by all employees in QTI's staffing and recruiting business unit.
Community Involvement: Outside the office, Zach has been participating in the United Way's Days of Caring helping nonprofit organizations anyway he can. He also participates in numerous run/walk events to help raise funds and awareness for Alzheimer's and autism.
Fun Fact: Zach has played sports his entire life (baseball, basketball, football, soccer and more) and yet has never broken a bone. "Knock on wood".
Specialties:
We have a knack for matching talent with culture and culture with talent. It's something that comes with open, honest communication—a skill we've honed through years of sharing knowledge and building connections within our communities. We do this because we believe the well-being of you and everyone else is more than professional. It's personal.
Learn more about how we can help fulfill your needs.