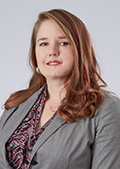 Bree Pizano
Co-Team Manager
QualiTemps
608.257.1057
Profile:
Bree is a Co-Team Manager and Recruiter with Madison Metro Industrial Services, specializing in skilled labor positions within manufacturing. Her experiences include leading talent acquisition and sourcing efforts, general industrial staffing, and providing Spanish-language support to candidates and clients. Bree enjoys connecting with her clients, learning the intricacies about their industries, and networking with candidates.
Background: Bree graduated from Moraine Park Technical College upon completion of the Chiropractic Technician program. She worked for over 2 years in this profession, which included administering patient therapies, taking x-rays and coordinating treatments. It was this role that eventually brought Bree to the Madison area.
After deciding to make a career change, Bree was introduced to the staffing and recruiting industry when she started at The QTI Group as a Payroll Specialist. She later moved into a recruiting role for general industrial positions at one of the QTI branch offices. Bree has supported various offices in the Dane County area as well as serving as interim manager for the Baraboo branch office. Recently, her recruiting focus shifted to mid-skilled and skilled labor positions in manufacturing.
Community Involvement: Bree currently serves on the steering committee for the Latino Academy of Workforce Development, a non-profit program that provides bilingual adult education and training to create pathways to improved employment opportunities. In addition, Bree also volunteers her time teaching Spanish-language Bible study classes.
Fun Fact: Bree plays piano and took lessons for many years starting at the age of 4.
Specialties:
We have a knack for matching talent with culture and culture with talent. It's something that comes with open, honest communication—a skill we've honed through years of sharing knowledge and building connections within our communities. We do this because we believe the well-being of you and everyone else is more than professional. It's personal.
Learn more about how we can help fulfill your needs.