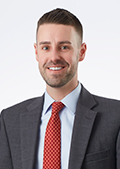 Jake Siudzinski
Director of Client Relations
The QTI Group
Profile:
Jake is a Client Development Manager for The QTI Group. He consults with organizations to understand their HR challenges and opportunities, and helps provide solutions and partnerships across QTI. Jake can help navigate these resources within staffing, recruiting, compensation, employee engagement, and HR expertise & guidance. He can be your first call to understand the organization, and how you might want to set up a relationship.
Background: Jake graduated from the University of Wisconsin-Madison with a Bachelors of Arts, and from the Wisconsin School of Business with an MBA. Jake has worked in the HR field his entire career. He started as a recruiter, and has been in business development and account management roles in the greater Madison area for over 15 years. Most recently before joining QTI, Jake gained valuable experience in Corporate Relations at the UW partnering with companies from Silicon Valley to Wall Street, working to develop complex partnerships.
Community Involvement: Jake has been very involved in the community. He is a past president of the Greater Madison Area SHRM (and past "volunteer of the year"), graduate of Leadership Greater Madison (LGM), a current ambassador for the Greater Madison Chamber, volunteer and Rosenberry Society member for the United Way of Dane County, past executive board member for the Wisconsin Singers, and patient companion and volunteer for Agrace Hospice. He was also honored to be included in In-Business magazine's 40 under 40.
Fun Fact: One of Jake's favorite hobbies is to travel. He is grateful to have had the opportunity to visit 19 countries and counting. He believes that travel is one of the most valuable tools for growth!
Specialties:
We have a knack for matching talent with culture and culture with talent. It's something that comes with open, honest communication—a skill we've honed through years of sharing knowledge and building connections within our communities. We do this because we believe the well-being of you and everyone else is more than professional. It's personal.
Learn more about how we can help fulfill your needs.