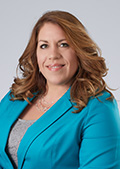 Laura Bermudo
Director of Client Relations
The QTI Group
608.257.1057
Profile:
Laura enjoys being a strategic partner with QTI's customers by helping them find solutions and resources that will positively impact their business, and helping them to achieve key goals and objectives for their organization. She has been solving for client's human capital pains and strategic initiatives for over twelve years and enjoys all aspects of supporting them and their success. She always strives to provide the highest quality of personal customer service experiences that our valued clients deserve.
Background: Laura attended Western Wisconsin Technical College in La Crosse with a focus on Graphic Design and Marketing. Laura has gained a great deal of experience through positions she held prior to joining the QTI team, and especially over the last twelve years in the HR industry specifically. She has enjoyed being responsible for managing all aspects of two small businesses and a branch/territory for a larger organization. In these roles, she had the opportunity to be involved with day-to-day operations, strategic planning, process development and implementation, recruitment, training, reporting, management, and business development.
Community Involvement: Outside the office, Laura holds the Director of Corporate Relations board position for the Greater Madison Area SHRM (Society of Human Resource Management), and also serves on their Human Capital Conference Planning Committee and Membership Committee. In addition, Laura also serves on committees for the Middleton Chamber of Commerce and Agrace's Care for All Campaign, and donates her time to the Salvation Army, Boys & Girls Club of Dane County, United Way of Dane County, and other critical organizations as she is able.
Fun Fact: Laura has gone whitewater rafting on the Shoshone Rapids, in Colorado, and cannot wait to do it again!
Specialties:
We have a knack for matching talent with culture and culture with talent. It's something that comes with open, honest communication—a skill we've honed through years of sharing knowledge and building connections within our communities. We do this because we believe the well-being of you and everyone else is more than professional. It's personal.
Learn more about how we can help fulfill your needs.