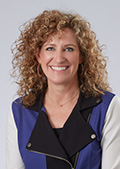 Jennifer Winding
Executive Search Director
QTI Executive and Professional Search
608.204.6262
Profile:
Jennifer is a Director of Executive Search, and has been with The QTI Group for six years. Her experience working in both entrepreneurial start-ups, non-profit organizations, and sales & marketing lends itself to providing a strategic, consultative approach to successfully recruiting passive candidates and working with leadership teams, search committees and boards. She works across multiple sectors, including nonprofit, health care, insurance, manufacturing, higher education, and business services, to fill senior and executive-level leadership positions in operations, marketing, sales, and finance. Her focus is national, utilizing her extensive network and QTI's recruiting technologies to uncover passive candidates who are top in their field. She conducts every search with an eye for "culture expansion", as much as culture fit, key competencies, and relevant experience, recognizing the importance of bringing organizations a diverse slate of qualified candidates from which to make a selection.
Jennifer is certified in Hogan Assessments, one of the top global assessments used for selection, retention and leadership development purposes, and offers this to clients as an extremely effective tool for advancing the success of leadership teams.
Background: Jennifer holds a B.A. in Journalism from the University of Wisconsin-Madison.
Prior to joining QTI, Jennifer recruited nationally for consumer products manufacturers. Her earlier career in sales and marketing led to the move to recruiting, as a natural extension of the sales and marketing process. She believes that helping organizations identify, assess and hire smart, strategic people is the key to success. Better products and services, and growing ROI are the result of good leadership.
Jennifer grew up mostly in Milwaukee, and lived in Chicago, London, Green Bay, Paris, and Minneapolis before moving to Madison 13 years ago with her family.
Community Involvement: Jennifer is a member of The Wisconsin School of Business Alumni Board, a board member and Chair of the Personnel Committee for Forward Theater Company, and a past board member of Tempo, the professional group for executive women. She is still a member of Tempo, as well as a member of Downtown Madison Rotary, one of the largest Rotary Clubs worldwide. Jennifer enjoys mentoring UW-Madison undergraduate and MBA students in preparation for career planning and transitions.
Fun Fact: Jennifer has managed vacation properties in the French West Indies for over 20 years and knows a lot about the island of St. Barts, if you ever want to visit…
Specialties:
We have a knack for matching talent with culture and culture with talent. It's something that comes with open, honest communication—a skill we've honed through years of sharing knowledge and building connections within our communities. We do this because we believe the well-being of you and everyone else is more than professional. It's personal.
Learn more about how we can help fulfill your needs.