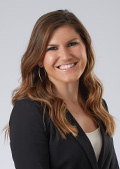 Kristin Dewey
Executive Search Director
QTI Executive and Professional Search
608.232.2650
Profile:
What I do: Manage the full life-cycle recruitment process for senior level talent in the non-profit and private sector; administer and assess Hogan Leadership Assessments; provide Boards of Directors with guidance for executive hiring.
What I enjoy best about my job: The challenges and opportunities that we face every day – no two days are the same. We are encouraged to innovate and improve not only for our own personal growth but to be the best resource for our clients which is very motivating. It also doesn't hurt that my co-workers are awesome.
Community Involvement: United Way of Dane County (various committees), Edgewood High School (Board and committee), Boys and Girls Club of Dane County (various committees), Building Brave (Board Member), Foundation for Madison's Public Schools
Fun Fact: I've been to 40 of the 50 states and have completed half marathons in over a dozen of them – lowest elevation of 3 ft. and highest of 5,396. Despite my best efforts, I cannot juggle.
Specialties:
We have a knack for matching talent with culture and culture with talent. It's something that comes with open, honest communication—a skill we've honed through years of sharing knowledge and building connections within our communities. We do this because we believe the well-being of you and everyone else is more than professional. It's personal.
Learn more about how we can help fulfill your needs.