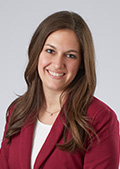 Tracie Duellman
Lead Search Consultant
QTI Executive and Professional Search
608.257.1057
Profile:
Tracie is a Lead Search Consultant on QTI's TechOps team. She focuses on full life-cycle recruitment for clients in the technical arena, with a concentration on Engineering recruitment. She started as an intern in QTI's Compensation Consulting department.
Tracie loves building relationships with her clients and candidates. It is rewarding to develop a community filled with such remarkable talent.
Background: Tracie graduated from the University of Wisconsin-Milwaukee with a Bachelor of Business Administration degree in Human Resources Management and Finance.
Community Involvement: Tracie is a participant in the annual United Way of Dane County campaign.
Fun Fact: Tracie was a lifeguard and swim lesson instructor for ten years at the pool where she grew up.
Specialties:
We have a knack for matching talent with culture and culture with talent. It's something that comes with open, honest communication—a skill we've honed through years of sharing knowledge and building connections within our communities. We do this because we believe the well-being of you and everyone else is more than professional. It's personal.
Learn more about how we can help fulfill your needs.