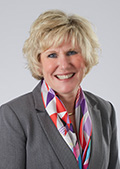 Londa Dewey
President
The QTI Group
608.257.1057
Profile:
Londa is the President of The QTI Group. She also serves on the Board of Directors of American Family Insurance Company, Madison Gas and Electric and the Wealth Management Company of Northwestern Mutual Life Insurance Company. The best part of her job is helping clients adapt, grow, and succeed, plus matching client's strategies and goals with the right talent solutions. She loves working with QTI's engaged and talented team.
Background: Londa graduated with a B.A. in Finance from the University of Illinois. Prior to joining QTI in 2007, she was the President of the Private Client Group and the Madison market President at U.S. Bank, where she worked for 25 years.
Community Involvement: Previously, Londa served as Campaign Chair, Board of Directors Chair, Foundation Board Chair at United Way of Dane County; Former Chair, Board of Directors, Greater Madison Chamber of Commerce Meriter Health Services, Camp Manito-wish YMCA, Edgewood High School, Edgewood Campus School, Edgewood College, and Family Business Center at UW Madison; Former President of IWF. Currently, she serves on the Edgewood College Board of Trustees, Puelicher Center for Banking Education Board at the UW School of Business, and is a member of Downtown Rotary.
Fun Fact: Once Londa participated on a 37 day canoe trip in Northern Canada with seven other women.
Specialties:
We have a knack for matching talent with culture and culture with talent. It's something that comes with open, honest communication—a skill we've honed through years of sharing knowledge and building connections within our communities. We do this because we believe the well-being of you and everyone else is more than professional. It's personal.
Learn more about how we can help fulfill your needs.