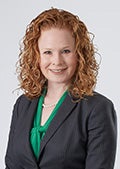 Rebekah Temple
Senior Consultant
QTI Consulting
608.663.4801
Profile:
Rebekah is a Senior Consultant advising clients on a broad range of compensation matters, including compensation strategy and philosophy, compensation program design, compensation benchmarking, compensation structure design, and compensation practices and policies. As a Senior Consultant, Rebekah leads project teams to deliver high-quality results to clients. Rebekah has nearly 10 years of consulting experience as well as experience in compensation administration.
Background: Rebekah received a Bachelor of Arts with a double major in Journalism and Mass Communication and Political Science from the University of North Carolina at Chapel Hill. After working for several years, Rebekah returned to UNC Chapel Hill where she earned a Master of Public Administration degree.
Rebekah gained varied experience through her career, including at UNC Health Care in Chapel Hill, NC, where she managed employee communications, the U.S. Government Accountability Office (GAO) in Washington, DC, and UW Health in Madison, WI, where she worked on the compensation team.
Community Involvement: Outside of work, Rebekah's world centers around her two sons. When not driving them to activities, she can be found volunteering at their schools as well as tying to make small differences in the world.
Fun Fact: Several years before going to UNC, Rebekah had the opportunity to attend the university's bicentennial where both Charles Kuralt and President Bill Clinton spoke.
Specialties:
We have a knack for matching talent with culture and culture with talent. It's something that comes with open, honest communication—a skill we've honed through years of sharing knowledge and building connections within our communities. We do this because we believe the well-being of you and everyone else is more than professional. It's personal.
Learn more about how we can help fulfill your needs.