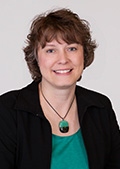 Tammy Malone
Senior Employment Specialist, Portage
QualiTemps
608.742.7800
Profile:
Tammy partners with clients and applicants to find the 'right' person/position match for all types of work. Her areas of focus are Administrative and General Manufacturing recruitment for temporary, contract to hire, and direct hire positions. Helping people is hands down the best part of her job! From assisting a client with locating a full time Accountant, to an applicant looking for summer production work, or someone in the office who wants to gain more knowledge, she thinks that it's a great feeling to know she has assisted another person with achieving their goals.
Community Involvement: Outside the office, Tammy is a Children's Theatre Volunteer, and serves on the Portage Chamber of Commerce.
Fun Fact: Tammy's goal is to go to each National Park in the United States at least once and camp. So far, she has been to 11 of the 58. Can you guess what she will be doing when she retires? Carpe Diem!
Specialties:
We have a knack for matching talent with culture and culture with talent. It's something that comes with open, honest communication—a skill we've honed through years of sharing knowledge and building connections within our communities. We do this because we believe the well-being of you and everyone else is more than professional. It's personal.
Learn more about how we can help fulfill your needs.