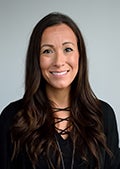 Michelle Zessin
Senior Recruiter
QTI Executive and Professional Search, TechOps
309.212.2103
Profile:
Michelle is a Sr. Recruiter for QTI's Tech Ops team. She focuses on full life cycle recruitment while providing Engineering and Technical Management talent to organizations through networking & candidate generation. With over ten years of direct hire focus in technical roles, Michelle has the ability to locate, interview & place mid to senior level individuals within the manufacturing sector.
Background: Michelle graduated from Illinois State University with a Bachelor of Science degree in Psychology and a Human Resources Certificate.
Prior to joining QTI, Michelle gained experience while functioning as both a Corporate Recruiter and Sr. Engineering Recruiter. Through these positions she was able to learn what is expected by corporate HR teams as well as enterprise level clients. She feels that understanding "both sides" of the staffing industry is helpful when partnering with organizations.
Community Involvement: Outside the office, Michelle volunteers for her children's schools and sports activities.
Fun Fact: Michelle is a Six Sigma Green Belt. When she's not working, she enjoys boating with her family and traveling.
Specialties:
We have a knack for matching talent with culture and culture with talent. It's something that comes with open, honest communication—a skill we've honed through years of sharing knowledge and building connections within our communities. We do this because we believe the well-being of you and everyone else is more than professional. It's personal.
Learn more about how we can help fulfill your needs.