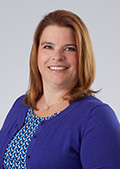 Nicki McCurdy
Senior Recruiting Consultant
QTI Executive and Professional Search
608.232.2650
Profile:
Nicki is a Senior Recruiting Consultant for QTI's Executive & Professional Search division. She partners with organizations on strategic and immediate recruitment needs within the professional and technical arena. Nicki's specialties include human resources and lab sciences; however she has proven to recruit in any space due to her extensive search experience. Nicki has a sincere desire to help employers find the perfect candidate and for candidates to find great career opportunities. So much time is spent at work that she believes it is important to love what you do – and have fun doing it! Nicki's desk is decorated with sayings such as "Wake up and be awesome", "Some people walk in the rain…others just get wet" and "Runs with scissors". Why? Because life is too short to not take some chances and have a little fun while working hard!
Background: Nicki graduated from Coe College in Cedar Rapids, Iowa, with a Bachelor of Business Administration degree. She has passed and maintains the Professional in Human Resources (PHR) and the SHRM Certified Professional (SHRM-CP) certifications.
Nicki has over 20 years of experience in human resources, including experience as an HR Generalist, Payroll and Benefits Specialist, and as a Corporate Recruiter before joining The QTI Group in 2006. Her prior industry experience includes education, software technology start-up, high tech manufacturing, insurance and financial services. In her role as a Sr. Recruiting Consultant with QTI Executive & Professional Search, Inc., Nicki takes a consultative approach to leverage her human resources experience to effectively partner with organizations to recruit and hire top talent.
Community Involvement: Nicki serves as current Board Secretary and Past President for the QTI Good Samaritan Fund, a non-profit that provides support to employees during times of need. She serves as committee chair within the Waunakee Touchdown Club and the Waunakee Hoops Club. She also serves as the Secretary of the Waunakee Hoops Club.
Fun Fact: Nicki is passionate about live music and worked as a stagehand for 17 years for productions ranging from small theater (touring Broadway) to large stadium shows (Rolling Stones, Pink Floyd, etc.). This not only put her closer to the music that she loves – it also allowed her to channel her inner farm girl with very hands-on, physical work that she loved!
Specialties:
We have a knack for matching talent with culture and culture with talent. It's something that comes with open, honest communication—a skill we've honed through years of sharing knowledge and building connections within our communities. We do this because we believe the well-being of you and everyone else is more than professional. It's personal.
Learn more about how we can help fulfill your needs.